Production Transfer for Woessner/Prevent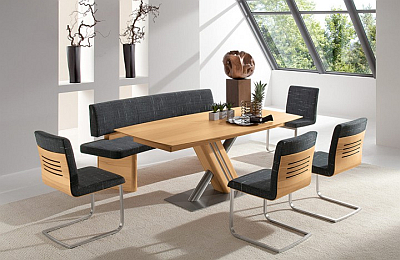 07.09.2016 - Targer Engineering & Consulting has made a significant step forward in expanding activities in its main segment – to help domestic and foreign investors to establish production or relocate it from other countries to Bosnia and Herzegovina as well as West Balkan region.
Targer E&C, on behalf of Wossner GmbH, a member of Prevent Group, officially announces successful implementation of production transfer project from Sulz am Neckar, Germany to Zgon next to Kljuc, Bosnia and Herzegovina. Wossner GmbH produces high quality dinning furniture from solid wood and panels. It is a well-recognized brand in Germany and West Europe for decades.
Wossner GmbH is a member of Prevent Group since last year. Future business model includes keeping brand and its market share, expanding assortment and increase of sales. Relocating to B&H, city of Kljuc and some to city of Visoko, is part of cost reduction plan. According to model, customers will not be affected by transfer of production by any means and same level of quality will be provided as it was in Germany for decades. Prevent Home will initially provide 120 jobs and by expansion plan it is supposed to increase to 300 in near future. To the municipality of Ključ this might prove to be a major milestone.
All these factors played a key role in selecting Targer E&C as a partner for this project due to the proven experience in relocating and making new production sites. Ambitious project goals were met with proven effort, knowledge and know-how of our company. Targer E&C would like to thank Wossner GmbH and Prevent Group for vested trust as well as to all project members and affiliates for their cooperation and support.
If you are interested in setting up production or relocating existing one, we at Targer Engineering & Consulting will be happy to offer our services.