Lean Six Sigma Green Belt Program in Tesanj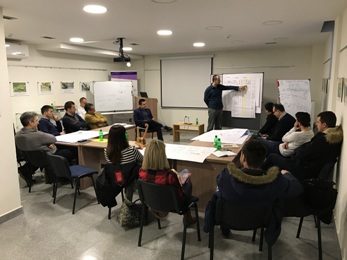 06.03.2017 - Tesanj is one of the most industrialized and developed areas, not only in Bosnia but also in ex-Yugoslavia. The municipality whose industry was traditionally based on manufacturing automotive-parts and in combination with great entrepreneurial spirit of its businessmen, today is rapidly walking to the futher industrial and social progress.
Targer Engineering & Consulting also got an opportunity to contribute. Last year in cooperation with TRA (Development Agency of Tesanj) an initial course for Yellow Belt of Lean Six Sigma methods was performed for the employees of the Tesanj companies. Right now, this cooperation is continued by starting of training cycle Lean Six Sigma Green Belt. The cycle will last for approximately 3 months. During this period, the participants in addition to theoretical training, will begin working on specific projects to improve processes in their companies. After implementation of our training, all project participants will be certified with Green Belt (Analogy with the Far-East martial arts, except in the case of Lean Six Sigma it is about the Business arts).
The companies whose employees participate in the training program are:
• Artisan, Tesanj (Furniture manufacturer)
• Madi, Tesanj (Food manufacturer)
• Mann Hummel, Tesanj (Production of filters and air purifiers for cars)
• Medena Commerce, Tesanj (Production of part for machines and constructions)
• Saracevic, Tesanj (Metal engineering and trade company)
• GS TMT, Travnik (Production of part for machines and constructions)
The main goals of the program include:
• Introduction of mentality and atmosphere for continuous improvements of the efficienct and qualitative operations
• Generating of experts for Lean - Six Sigma, which as future project managers will represent the backbone for implementation of the methods in their organizations
Although our trainers have quite experience in this methods, for Targer E&C this Green Belt program represents the first one which is performed on the open market for that level. That's the reason to send a message that this is only the beginning and that we will together with TRA, companies from Tesanj, as well as from all other interested organizations in BiH and the West-Balkan region work in further popularization of ideas and methods which the Japanese industry led on the throne regarding efficiency, quality and mutual respect of all stakeholders.
For more information about TRA you can read
ovdje
.
For more information about the Lean Six Sigma program please contact us.