Organization of Production Department for Alma Ras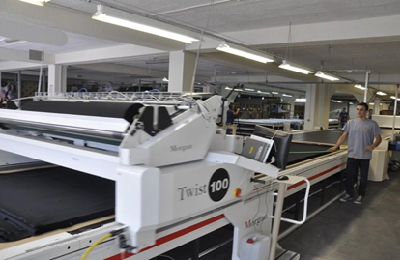 16.01.2017 - Alma Ras manufactures high quality underwear and nightwaer. This family owned company with headquarters in Olovo, B&H, today employs more than 1,000 associates at 5 production locations, making it one of the largest private companies in Bosnia and Herzegovina and the Western Balkans region. Under the guidance of the family Memagic and through acquiring confidence of its customers, the company is accomplishing continuous and stable growth for twenty years.
Besides underwear production and sales under own brands, all benefits of production in Alma Ras company are used by two reputable European manufacturers of underwear and swimwear: Triumph and Calzedonia.
New initiatives are just running. In order to create additional production capacities, two years ago Alma Ras established a production site in the town of Visoko, B&H, whom is currently expanding with a new production hall. As a part of this project, Alma Ras is transferring parts of production (manufacturing program and equipment) from the customer Triumph, from the city Wiener Neustadt, Republic of Austria. All of this is happening within the initiative of a strategic partnership with Triumph company, which outsources additional production and supply chain processes to Alma Ras.
To a reliable client, Alma Ras has decided to give back the same reliability. The project is approached with studiousness, and among other actions, Targer E&C is engaged as a project support for the planning, organization and establishing of one manufacturing department. This department will be responsible for textile cutting on the CNC machines (cutters), as well as additional processes in preparation for final sewing operations of the underwear. First priority of the project is to ensure a stable delivery of products with appropriate quality, and the focus of the second phase will be on the material and machine utilization, with the final goal to establish a long-term competitiveness of the Alma Ras company.
Project of transfer operations from Triumph ends in January 2017, but our company support on the organization and process improvement will be continued in 2017. Targer E&C would like to thank Alma Ras, their management, as well as all involved associates for constructive cooperation.
For more information about establishing, organizing and optimizing production operations, team of Targer E&C is at your disposal.